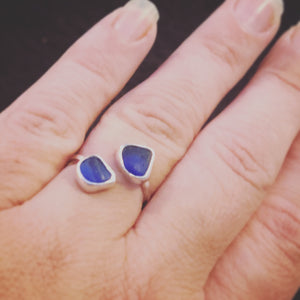 This simple, yet unique piece of jewelry lets you bring the beach with you! Two one of a kind pieces of genuine New England sea glass are carefully selected and set by hand in fine and sterling silver settings to create this versatile ring. Each piece of glass is approximately the size of a pencil eraser. The ring shank is attached at each end to one setting, allowing the two pieces of glass to sit perfectly on your finger. The unique double stone design makes this ring adjustable in size, perfect for gift giving! Ring shown in picture is crafted as a size 7 and can be easily adjusted to fit approximate sizes 5-8.5.
Because each piece of sea glass used in our jewelry is carefully selected from local area beaches and hand-chosen especially for you, slight variations in size, shape, and color may occur. Each piece is unique. Your jewelry will very closely resemble the piece shown in the photo(s) while being handcrafted uniquely just for you. We make every effort to provide you with jewelry that is equal to or greater in quality of appearance to the pieces shown, and we are more than happy to work with you to make sure we have picked the perfect pieces to make your one of a kind jewelry special for you.
Shipping and handling for orders over $50 is FREE!
Comes in gift box ready for any gift-giving occasion.
** Because each piece of jewelry is so unique, jewelry orders typically are made to order. Please allow 1-2 weeks production time, which may vary due to order volume. If you have a specific deadline to meet, please contact me so that I can best accommodate you.**