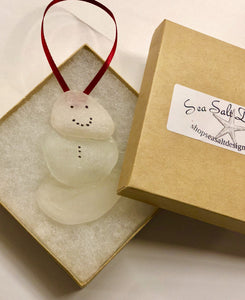 These adorable ornaments will add a touch of the sea to any Christmas decor. Handcrafted from genuine locally collected sea glass, these ornaments are each one-of-a-kind. Each snowman is made of 3 pieces of white sea glass and your choice of ribbon for hanging. The snowman itself is approximately 3 inches tall. They come boxed for gift giving.
After reworking our design over several years, each ornament is carefully assembled by hand using a three-part adhesive process over the course of 7-10 days. Each and every ornament is tested for durability before shipping so that they may be enjoyed for generations. 
Because each piece of sea glass used in our jewelry is carefully selected from local area beaches and hand-chosen especially for you, slight variations in size, shape, and color may occur. Each piece is unique. Your jewelry will very closely resemble the piece shown in the photo(s) while being handcrafted uniquely just for you. We make every effort to provide you with jewelry that is equal to or greater in quality of appearance to the pieces shown, and we are more than happy to work with you to make sure we have picked the perfect pieces to make your one of a kind jewelry special for you.

Shipping and handling for all orders over $50 is free! 

Comes in gift box ready for any gift-giving occasion.