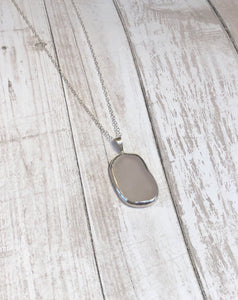 Thin piece of beautifully shaped-by-the-sea pastel sea glass, hand-selected from local area beaches, bezel set in sterling and fine silver with handcrafted sterling bail. Pendant measures approximately 1" in length and is left open in the back to allow the light to catch the natural beauty of the glass. 18" sterling silver snake chain included. 

Because each piece is hand-selected and created just for you, some slight variations in size shape and color may occur. We never alter our natural sea glass in any way, but make every effort to create exactly what you are looking for.

Comes gift boxed and ready for gift giving.

shipping and handling for all orders over $50 is free