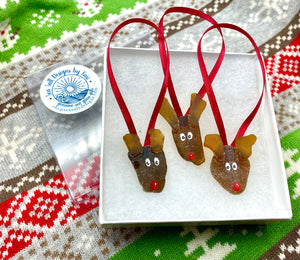 Unique gift idea or nautical family holiday heirloom for yourself. Each of these ornaments is handcrafted from 100% genuine, surf-tumbled sea glass, measures approximately 2" tall, plus deep red ribbon for hanging and hand painted features. 
Because we use only genuine sea glass, every ornament is one-of-a-kind, and shapes and sizes may vary. Your set will contain 3 unique ornaments in a 3.5 inch box, perfect for gift giving or for storing in the off season to add a bit of authentic nautical decor to your holiday season year after year.
Our family has spent the past decade collecting, sorting, and perfecting our unique 3 stage adhesion process which allows each of these ornaments to be durable enough to be enjoyed by you and your loved ones for many years and generations to come.